PEMA Welcomes Five New Members in 2018
April 10, 2018 – The Port Equipment Manufacturers Association (PEMA) continues to expand its membership base, welcoming five new members in the first quarter of 2018.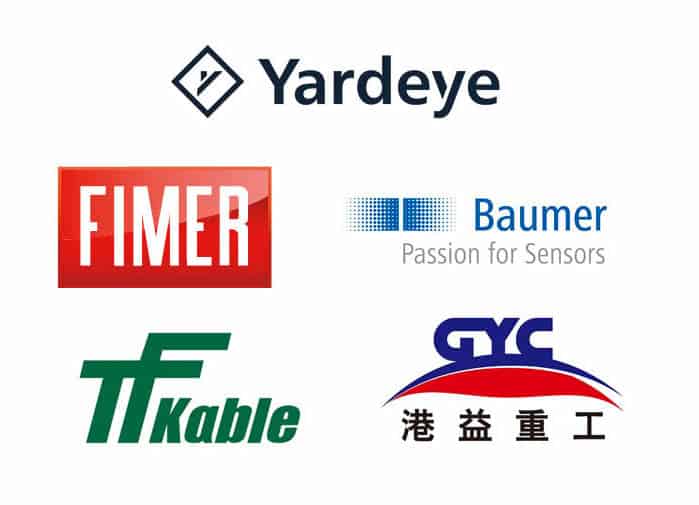 PEMA has seen sustained growth with five new members in the first quarter of the year, bringing the membership total to 108 companies, representing an increasingly broad cross-section of operations. PEMA hopes to continue its growth in membership into 2018 and in the years ahead.
Commenting on today's announcement, PEMA President, Ottonel Popesco, said: "With our growing member base and increasingly diverse range of activities, PEMA is better positioned than ever before to ensure that the port equipment and technology sectors have a clear and unified voice in the industry. I would like to thank our new and existing members for their support and look forward to continuing to develop PEMA's role and responsibilities, in 2018 and beyond."
The five new member companies, and brief descriptions of them, are listed below.
Yardeye GmbH
Yardeye GmbH is focusing on port automation and safety for container terminals. As a technology company they implement innovative radar and RFID solutions to increase safety and efficiency in container terminals with a special focus in Intermodal Yards. Yardeye works in a solution oriented manner with customers at all levels in the supply chain. As an agile and dynamic company with a long term development strategy, Yardeye GmbH offers employees a perfect platform for development and further education in all areas.
Fimer SpA
Fimer SpA is a leading European company headquartered in Italy engineering and manufacturing mainly solar power innovative inverter technologies, electrical vehicles chargers for ports, power plants and other utilities. The port market and related applications served indirectly through their technologies is now becoming a direct application. The supply of clean and environmentally friendly technologies are their main goal.
Jiangsu Gangyi Heavy Machinery Co.
Jiangsu Gangyi Heavy Machinery Co., Ltd (GYC) is a well-known crane manufacturing high-tech industry enterprise based in Jiangsu Province, having a R & D port equipment engineering technology center recognized by the government. Jiangsu Gangyi is a major producer of port equipment in China, and offers manufacturing, installation, maintenance and repair of heavy port equipment for use across China, Vietnam, Indonesia, Japan and Australia.
TELE-FONIKA Kable S.A.
TELE-FONIKA Kable S.A. is one of Europe's leading cable & wire manufacturers. Based in Poland, we produce over 25000 different products ranging from 1kV to 500kV and distribute to our valued customers in over 80 countries globally.
We are a recognized and respected manufacturer of EPR, XLPE, PVC, SWA, Flame Retardant and Halogen Free cables, operating in several market sectors such as Port Handling, Oil & Gas, Construction, Rail, Mining, Renewable Energy, Power Generation and Telecom with production facilities in Poland, Serbia & Ukraine.
In the 2017 TELE-FONIKA Kable SA expanded its manufacturing and technological capabilities, by joining JDR Cable Systems (Holdings) Ltd. ("JDR") – the leading manufacturer of subsea production umbilical's and power cables for the petroleum, gas and renewable energy industries. Our range of products has been extended to include submarine power supply cables, intervention workover control systems umbilical's, and power and control umbilical's. JDR's manufacturing facilities are located in Hartlepool and Littleport, UK.
TELE-FONIKA Kable Group of companies develop unique and innovative cabling solutions tailored to exceed our customers expectations without dilution of our company values. Through our knowledge and expertise we have been able to build a strong business foundation for success, demonstrating our commitment to quality and sharing our vision for the future.
Baumer Huber GmbH, 
Hubner Berlin, now Baumer Huber GmbH, is the Baumer Group competence center for Heavy Duty sensors particularly conceived for drive engineering.
They have been world-leading in this industry for more than 60 years, setting new benchmarks for reliable encoders, tacho-generators and speed switches in Heavy Duty technology. Their unrivalled resilient products are optimized to match specific applications and create long time branch expertise with cutting-edge technology.
For decades, Baumer Heavy Duty encoders have been proving unrivalled reliability under the most adverse conditions. Whether at gantry cranes, vertical lift bridges, steel plants or wind power stations – these encoders are extremely robust, failsafe and durable. Product combinations merging several sensing methods or twin encoders can take over specific tasks and safety functions.
About PEMA 
Founded in 2004, PEMA provides a forum and public voice for the global port equipment and technology sectors. The Association has seen strong growth in recent years, and now has more than 100 member companies representing all facets of the industry, including crane, equipment and component manufacturers, automation, software and technology providers, consultants and other experts.
For more information about this media release, or PEMA Membership, please contact the PEMA Secretariat: 
Fae Brennan, PEMA Head of Administration:
fae.brennan@pema.org
Mob: +44 7766 228 958
Tel: +44 2034 093 100