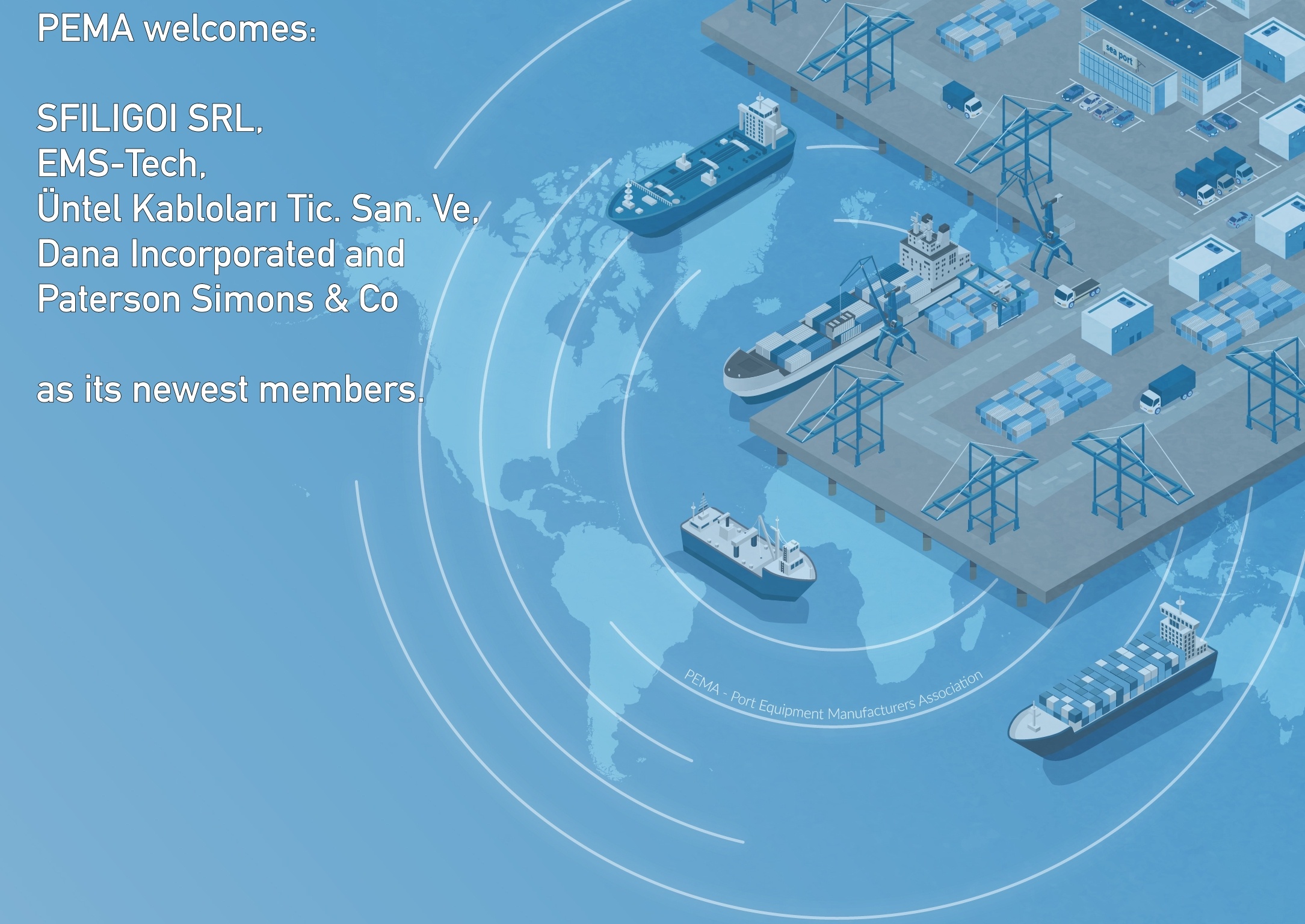 PEMA welcomes five (5) new members in January 2020
London – January 2020
In the first week of January 2020, PEMA – The Port Equipment Manufacturers Association, the global industry body for port equipment and technology, accepted SFILIGOI SRL, EMS-Tech, Üntel Kabloları Tic. San. Ve, Dana Incorporated and Paterson Simons & Co as its newest members.
"We are delighted to welcome SFILIGOI SRL, EMS-Tech, Üntel Kabloları Tic. San. Ve, Dana Incorporated and Paterson Simons & Co as our latest members," said Mr Ottonel Popesco, President of PEMA on behalf of the board of Directors. "Today with an increasing interest in our Association, PEMA has solidified itself as a trusted industry body representing all facets of port equipment and technology on a global scale. We look forward to working alongside our old and new members throughout 2020 and beyond. "
Members Profile:
SFILIGOI SRL
With more than 15 years of experience in one of the major lighting districts in the world makes Sfiligoi one of the international leaders in the design and production of LED luminaires, with several lighting systems operating worldwide, in particular in Europe, Asia and Africa.
Sfiligoi has bet and invested on this technology from the beginning – a lot before it became the current standard – thus promoting the development of a specific know-how that no other manufacturer can boast in this sector. The deep knowledge gained in the field of LED technology allows Sfiligoi to operate in any industrial sector, even in extreme or particularly complex conditions, from heavy environments to food industry, to the port sector. The strong experience obtained in transverse and international projects enables Sfiligoi to prevent any kind of problem related to the use of LED technology, as well as to offer our customers customized solutions that can meet any specific requirements.
EMS-Tech
As a privately-owned Canadian firm with 30 years of experience, EMS-TECH Inc. continues to grow as a world leader in the design and supply of mobile bulk material handling systems on a global basis.
EMS-TECH Inc. has built a global reputation for providing world-class solutions while co-operatively working with everyone involved. The team of specialists are experts in the engineering, design, manufacturing and management of custom designed bulk material handling equipment and large engineered systems. Whether it's an idea that requires full engineering development or mobile equipment design or manufacturer surveillance through commissioning, EMS-TECH is your perfect engineering and management capability source in bulk handling.
Üntel Kabloları Tic. San. Ve
Üntel Kablo was established in 1972 with having the objective of being one of the leading cable manufacturers in the World.
With the promising future vision, Üntel always aims to be better and push her brand over the top. With almost 50 years manufacturing experience and extensive know-how, Üntel Kablo exported %60 of sales in over 70 countries on 6 continents.
CRANE CABLES | MARINE CABLES | INDUSTRIAL CABLES | OFFSHORE CABLES | RAILWAY CABLES | AIRPORT CABLES | MINING CABLES | DEFENCE CABLES
https://www.untel.com.tr/en/about-us/?lang=en#pll_switcher
Dana Incorporated
Dana is a world leader in providing power-conveyance and energy-management solutions for vehicles and machinery.  Enabling the propulsion of conventional, hybrid, and electric-powered vehicles, Dana equips its customers with critical drive and motion systems; electrodynamic and power technologies; and thermal, sealing, and digital solutions.
The company's portfolio improves the efficiency, performance, and sustainability of light vehicles, commercial vehicles, off-highway as well as industrial and stationary equipment. Dana is a major supplier to all OEM's in Port Machinery with a product portfolio that includes transmission, planetary gearboxes, helical and bevel helical gearboxes, winches, and other motion products developed for high efficiency working functions.
The company's global presence (33 countries), combined with their robust delivery capabilities, allows Dana to meet our customers' region-specific production needs, anywhere in the world.
Paterson Simons & Co
With over 60 years of experience Paterson Simons & Co. (Africa) Ltd. specialises in sales and service of lifting and handling equipment with a focus on the shipping, mining and construction industries in West Africa. The company  represent a number of key manufacturers and all our sales come with a full working manufacturers warranty and are backed up by a first class service team based in subsidiary offices in the region.
From engineers in the field, to sales teams, parts managers, admin assistants and logistics managers (and everyone in between) you'll find us passionate about solving your lifting problems.
About PEMA
Founded in 2004, PEMA provides a forum and public voice for the global port equipment and technology sectors. The Association has seen strong growth in recent years, and now has 110 member companies representing all facets of the industry, including crane, equipment and component manufacturers, automation, software and technology providers, consultants and other experts.
For more information about this media release, please contact the PEMA Secretariat:
Petar Karaivanov, PEMA Head of Administration:
petar.karaivanov@pema.org
Mob: +44 7766 228 958