PEMA Student Challenge 2018 Question Announced
March 19, 2018 – The Port Equipment Manufacturers Association (PEMA) launches the Student Challenge 2018.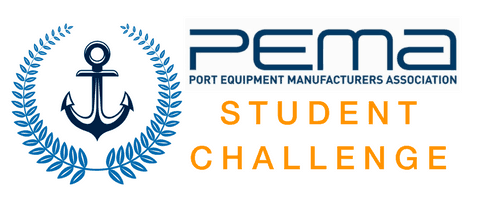 The PEMA Student Challenge question for 2018 was announced today, marking the official launch of this years' competition. The theme of environmental challenge and productivity at ports was announced at the PEMA AGM in Bilbao in January, and focuses heavily on-air quality and the reduction of CO2 emissions at terminals.
This years' challenge follows a number of high profile international initiatives to reduce CO2 emissions in the maritime sector and this years' competitors will be challenged to draw on existing technologies such as shore power and green energy to propose a sustainable, yet economically competitive solution.
Teams will be judged, not only on their technical knowledge and creativity but also their ability to establish a realistic and cost-effective solution which could be implemented in a real port environment.
As tradition, there is a prize of €1,000 up for grabs and the top three teams will be invited to present their solution at the Student Challenge Final, hosted live at TOC Europe in Rotterdam, 14th June. The lucky finalists will have the opportunity to attend the TOC and network with industry professionals who will judge the event.
Of the challenge, Fae Brennan, chair of the PEMA Communications, Events and Educational Programmes Committee, said "The PEMA Student Challenge provides a unique opportunity for young people to experience the TOC Europe and connect with industry leaders. The Student Challenge is helping to bring up emerging talent and we are committed to making a continued success of it".
To see all the highlights from the Student Challenge 2017, check out the Student Challenge Final at the TOC Europe in Amsterdam.
Full rules of participation and sign-up sheets can be downloaded from our PEMA Student Challenge page.
If you are interested in participating in the Student Challenge 2018 or would like to learn more about the programme, please contact the PEMA Secretariat, via the details below:
Fae Brennan, PEMA Head of Administration:
fae.brennan@pema.org
Mob: +44 7766 228 958
Tel: +44 2034 093 100