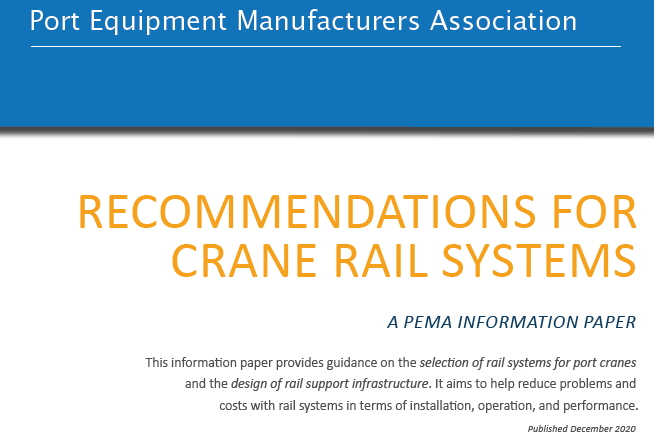 PEMA publishes last information paper for 2020 – RECOMMENDATIONS FOR CRANE RAIL SYSTEMS
This information paper provides guidance on the selection of rail systems for port cranes and the design of rail support infrastructure. It aims to help reduce problems and costs with rail systems in terms of installation, operation, and performance. 
This paper is intended to provide specifiers and purchasers of crane rail systems guidance and recommendations for the selection of state-of-the-art crane rail systems for large cranes. 
The goal of the paper is to improve the quality of rail installations and the resulting operation of rail mounted cranes. 
This document is one of a series of Information Papers developed by the Equipment Design and Infrastructure Committee (EDI) of the Port Equipment Manufacturers Association (PEMA). The series is designed to provide those involved in port and terminal operations with advice on standards and their application to the design of port equipment, together with guidance on issues related to equipment design and equipment interfaces with port infrastructure. 
This document does not constitute professional advice, nor is it an exhaustive summary of the information available on the subject matter to which it refers. 
This paper is available for download on the PEMA website, https://www.pema.org/downloads/ under section Information Papers & Best Practices.
ABOUT PEMA 
Founded in 2004, PEMA provides a forum and public voice for the global port equipment and technology sectors. The Association has seen strong growth in recent years, and now has more than 100 member companies representing all facets of the industry, including crane, equipment and component manufacturers; automation, software and technology providers; consultants and other experts. 
Chief among the aims of the Association is to provide a forum for the exchange of views on trends in the design, manufacture and operation of port equipment and technology worldwide. 
PEMA also aims to promote and support the global role of the equipment and technology industries, by raising awareness with the media, customers and other stakeholders; forging relations with other port industry associations and bodies; and contributing to best practice initiatives.