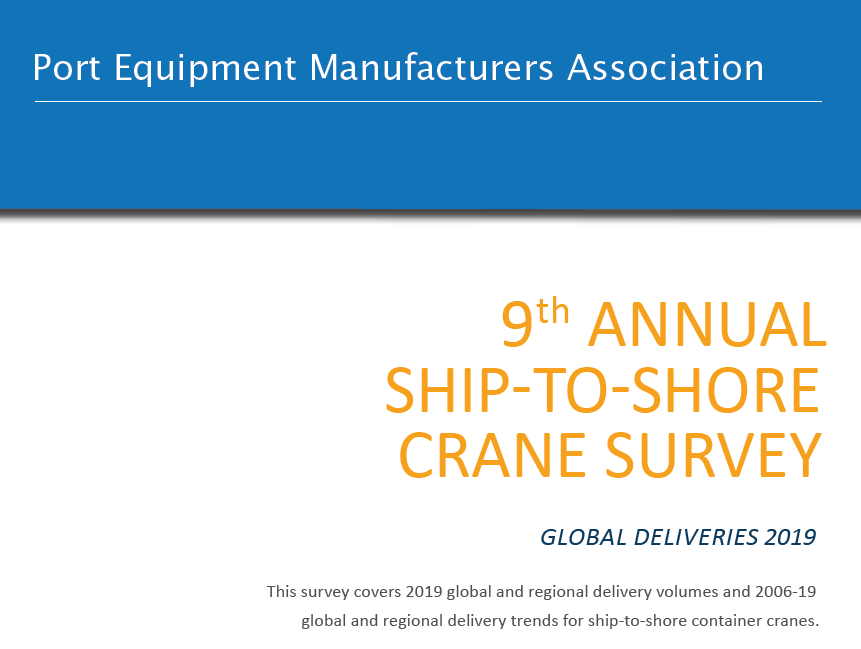 PEMA publishes insights into global crane deliveries
The Port Equipment Manufacturers Association (PEMA) has published the Ninth Annual Ship-to-Shore Crane Survey providing key insights into global container crane deliveries made in 2019.
"This report forms a vital component of our efforts to improve decision making and best practice across the global ports and terminals supply chain," says PEMA President and Chairman of the Board, Ottonel Popesco.
The Ship-to-Shore (STS) Crane Survey reveals that a total of 166 STS cranes were delivered in 2019, down from 224 in 2018. The report notes that this is the lowest number of deliveries since 2011. STS deliveries were down in all regions apart from North America and Latin America.
The STS survey includes details on trends in lift capacity, outreach, and lift height. For example, in 2019, 109 cranes, (66 per cent of total deliveries), had outreach greater than 60 metres, reflecting the growing use of "mega" container ships.
This report was researched and authored exclusively for PEMA by Brian Robinson, who approached crane manufacturers to obtain information to compile these reports.
PEMA regularly publishes reports, surveys, and white papers on key issues such as safety, efficiency, and sustainability, related to global port equipment. These materials are available for download as PDFs from the Association's website at: https://www.pema.org/downloads/
About PEMA 
Founded in 2004, PEMA provides a forum and public voice for the global port equipment and technology sectors. The Association has seen strong growth in recent years, and now has more than 120 member companies representing all facets of the industry, including crane, equipment and component manufacturers, automation, software and technology providers, consultants and other experts.