PEMA publishes health and safety recommendations for RTG and container cranes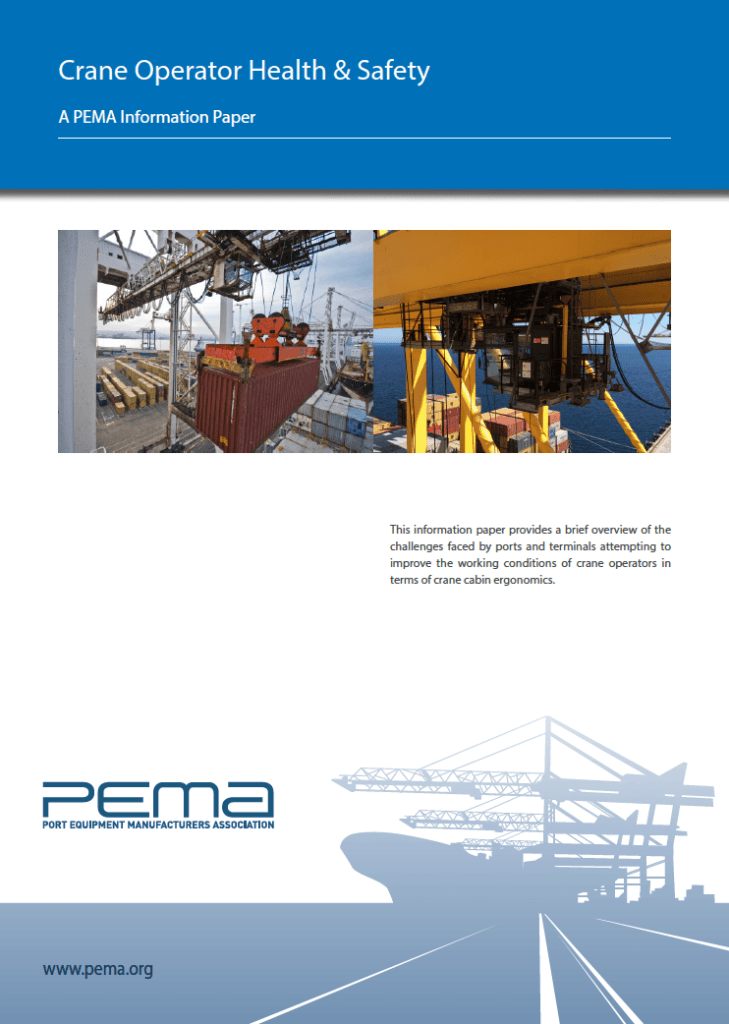 June 1, 2018 – The Port Equipment Manufacturers Association has published a report on crane operator health and safety that includes 20 recommendations for crane manufacturers and terminal operators on how to improve RTG and container crane cabin ergonomics and safety.
"This paper and its recommendations provide the industry with a set of best practice advice and points to consider in terms of crane operator safety and well-being," says PEMA president, Ottonel Popesco.
The recommendations of this report cover a wide range of areas including cabin vibration, maintenance, ambient temperatures, airflow, emissions, integrity of glass floors, fall risks, visual and audio warning systems, inertial forces, and conflicting data sets between control workstations and anthropometric readings.
The paper, compiled under the auspices of PEMA's Safety & Environment Committee, focuses on the health and safety of operators of rubber tyred gantry (RTG) cranes and ship-to-shore (STS) container cranes.
"Similar to the Association's existing information papers, we hope that this report will be widely used as a trusted source of information in the industry," Popesco adds.
PEMA regularly publishes information papers, independent research reports, technology briefings, and other materials designed to inform decision makers in the global ports and terminals sector regarding the design and operation of port equipment and technologies.
While the Association does not – and is not permitted to – advocate specific technologies, it does seek to contribute to industry awareness of issues and options that port and terminal authorities may wish to consider.
The Paper IP14 Crane Operator Health & Safety was originally published to PEMA Members in March 2018 and is now made available to the public. The report itself, along with other information papers, surveys and recommendations from PEMA and partner organisations, can be downloaded free of charge in PDF at: pema.org/publications.
About PEMA 
Founded in 2004, PEMA provides a forum and public voice for the global port equipment and technology sectors. The Association has seen strong growth in recent years, and now has more than 100 member companies representing all facets of the industry, including crane, equipment and component manufacturers, automation, software and technology providers, consultants and other experts.
For more information about this media release, please contact the PEMA Secretariat: 
Fae Brennan, PEMA Head of Administration:
fae.brennan@pema.org
Mob: +44 7766 228 958
Tel: +44 2034 093 100