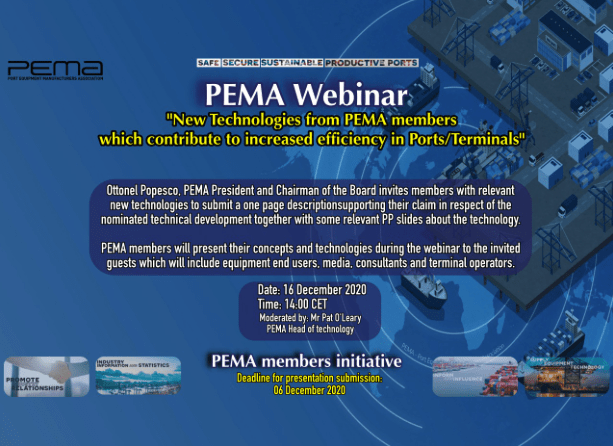 New, innovative technologies that improve efficiency at ports and terminals top agenda at latest PEMA webinar
The Port Equipment Manufacturers Association, (PEMA),  invited its members to showcase new technologies that improve operational efficiency during the latest in a series of webinars hosted by the Association intended to focus on key issues facing the global ports and terminals sector.
The event, which had more than 100 registered attendees from leading port equipment manufacturers, was held on Zoom at 2pm CET on December 16, 2020.
Entitled New technologies from PEMA members which contribute to increased efficiency in ports and terminals, the session included  presentations on the characteristics and operational benefits of members' new technologies specialising in areas such as electrification and automation.
The event was moderated by Pat O'Leary, PEMA Head of Technology.
"This is an excellent opportunity for our members to showcase their technologies on a neutral platform with considerable exposure to media and major port industry players," says President and Chairman of the PEMA Board, Ottonel Popesco.
This is the third such event hosted by PEMA in recent months. In October, the Association held a webinar that focused on issues relating to STS and yard cranes. And in April, it hosted a webinar that explored the challenges facing the global shipping sector post-covid-19. Further such events are planned into 2021.
Full webinar recording, including the presentations form members is available on the PEMA YouTube page:
https://www.youtube.com/watch?v=1KCchrVsEmA
About PEMA 
Founded in 2004, PEMA provides a forum and public voice for the global port equipment and technology sectors. The Association has seen strong growth in recent years, and now has more than 120 member companies representing all facets of the industry, including crane, equipment and component manufacturers, automation, software and technology providers, consultants, and other experts.