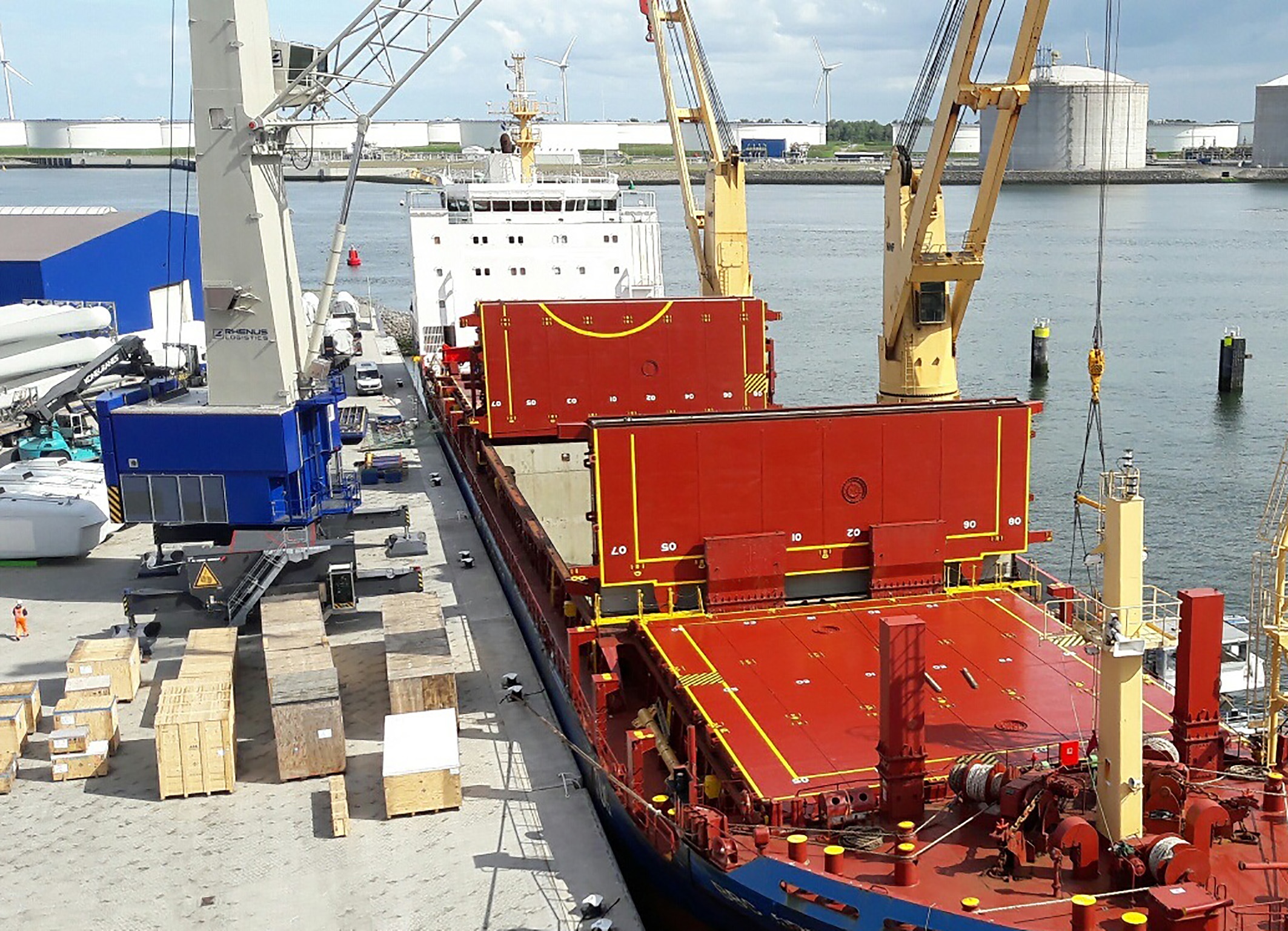 Konecranes wins order in Rotterdam for mobile harbor crane Powered by Ecolifting
In the last quarter of 2019, Rhenus Logistics B.V. (Rhenus) ordered an eco-efficient Konecranes Gottwald Model 6 Mobile Harbor Crane for their operations at the Rhenus Deep Sea Terminal, Maasvlakte in Rotterdam, The Netherlands. With commissioning planned for May and handover by June 2020, the crane will handle general, heavylift & project cargo and expand the terminal's container handling capacity. Equipped with an external power supply, it brings Konecranes' Powered by Ecolifting to a new market.
At 40 km long, the Port of Rotterdam is Europe's largest port, with access to ship, train and road connections, as well as river transport  all the way to France and Switzerland. As a leading global logistics provider, the Rhenus Group operates multiple terminals at this key location. The Rhenus Deep Sea Terminal, situated on the Maasvlakte extension into the North Sea, functions as a hub between long-distance cargo and short sea shipping, with unobstructed nautical access. Rhenus decided to invest in a new mobile harbor crane to extend and modernize their fleet of three Konecranes Gottwald cranes.
"We've been very pleased with our Konecranes equipment," says Peter van der Steen, Managing Director of Rhenus Logistics B.V. "When we took over this terminal some years ago, there were already two 100-ton Konecranes Gottwald mobile harbor cranes in operation. They've been excellent, so four years ago, we bought our first 125 tonner, Model 6, a high-performance crane that gives us the flexibility to handle any kind of cargo. For this new order, we wanted something similar, but with even better energy efficiency, to correspond with the Rhenus Group's commitment to sustainability and to our ambition in Rotterdam for further electrification."
Their fourth Konecranes Gottwald crane is like their previous purchase, a Model 6 Mobile Harbor Crane in the G HMK 6507 variant. It gives Rhenus a second option for handling up to 125 tons of general and heavy project cargo as well as containers. In twin-lift with its sister it can lift up to 187.5 tons. One difference is that the new crane uses a 690V external power supply, which will lower operating costs, while reducing noise and exhaust emissions at the same time. The first  Model 6 crane has built-in readiness for an external power supply,  so Rhenus will be able to connect it to the harbour mains as well, at  a later stage.
"This is the first mobile harbor crane in the Netherlands to be delivered with an external power supply," says Hans-Juergen Schneider, Regional Sales Manager, Konecranes Port Solutions. "We are excited to see the growing enthusiasm for the Konecranes Powered by Ecolifting approach in the Benelux region. Eco-efficient solutions like this are essential to modern long-term business investment."
This is part of Powered by Ecolifting, Konecranes' vision to minimize the footprint and improve the handprint of equipment for container terminals. From eco-optimizing diesel drives, to hybridization and fully-electrified fleets, we will continue to do more with less.
Further information:
Hans-Juergen Schneider, Regional Sales Manager, Mobile Harbor Cranes, Konecranes Port Solutions
Email: hans-juergen.schneider@konecranes.com or
phone: +49 211 7102 3454
This press release is available at the website konecranes.com
Konecranes is a world-leading group of Lifting Businesses™, serving a broad range of customers, including manufacturing and process industries, shipyards, ports and terminals. Konecranes provides productivity enhancing lifting solutions as well as services for lifting equipment of all makes. In 2018, Group sales totaled EUR 3.16 billion. The Group has 16,100 employees in 50 countries. Konecranes shares are listed on the Nasdaq Helsinki (symbol: KCR).