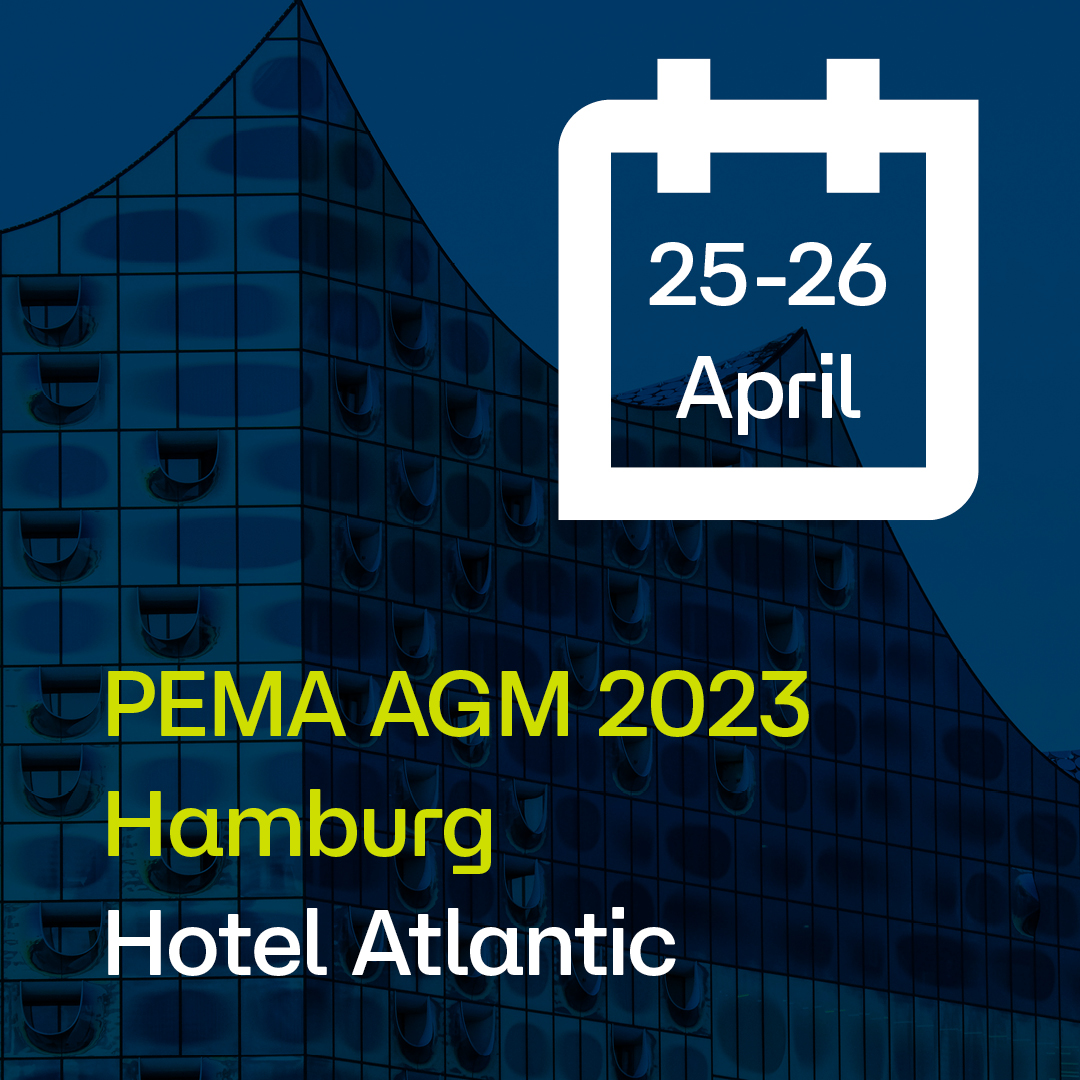 We are delighted to release the dates for our 2023 AGM, the first in-person meeting on the PEMA event calendar for next year.
The AGM will take place in Hamburg, Germany, on April 25th & 26th, at the Hotel Atlantic Hamburg.
2022 seen the return of PEMA personally engage with our members and key industry stakeholders by providing a unique forum for open public dialogue on the issues that will shape the future of our industry. The Annual General Meeting not only provides an opportunity to reflect on the achievements of the past year, but also forces us to look to the future.
The 2 day event will begin on Tue 25th with a Boat Tour of the Port of Hamburg. Pick up and drop off will be organised to and from the Hotel Atlantic Hamburg.
Once we return from the site visit, lunch will be provided in the hotel before we gather for an afternoon of Technical Committee Meetings.
On Tuesday evening, a drinks reception will be held in the hotel bar for participants from 6:30 PM – 8:00 PM. Participants can enjoy this free time to make their own dinner reservations to catch up with colleagues and friends – we recommend booking in advance as Hamburg is a busy place!
The official AGM will take place on Wednesday, April 26th, with registration from 9:00 AM CET. The morning will consist of PEMA technical, administration, marketing, and financial activity updates, as well as the election of Board Members.
After a buffet lunch, delegates can look forward to hearing from a panel of key-note speakers that are well established in the industry such as:
Karsten Behrens (SAL Engineering)
Leticia Astudillo (Drewry Maritime Advisors)
Luisa Kempf (EUROGATE)
Ulf Bockelmann (HHLA)
Christian Klaus (COSCO Shipping Europe)
Sahar Rashidbeigi (APM Terminals)
After the official AGM, Members can enjoy an evening of networking and getting to know other PEMA colleagues and friends at the Gala Dinner taking place at the Hotel Atlantic Hamburg.
You can view and download the full schedule here –> PEMA AGM Schedule
REGISTER NOW
Registration is now closed
RESERVE YOUR STAY
Call or email the Hotel Atlantic Hamburg and reference the PEMA event to avail of the special rate of €250.
Reservations can be made by emailing Reservations.atlantic-hamburg@brhhh.com or calling +49 40 2888 817