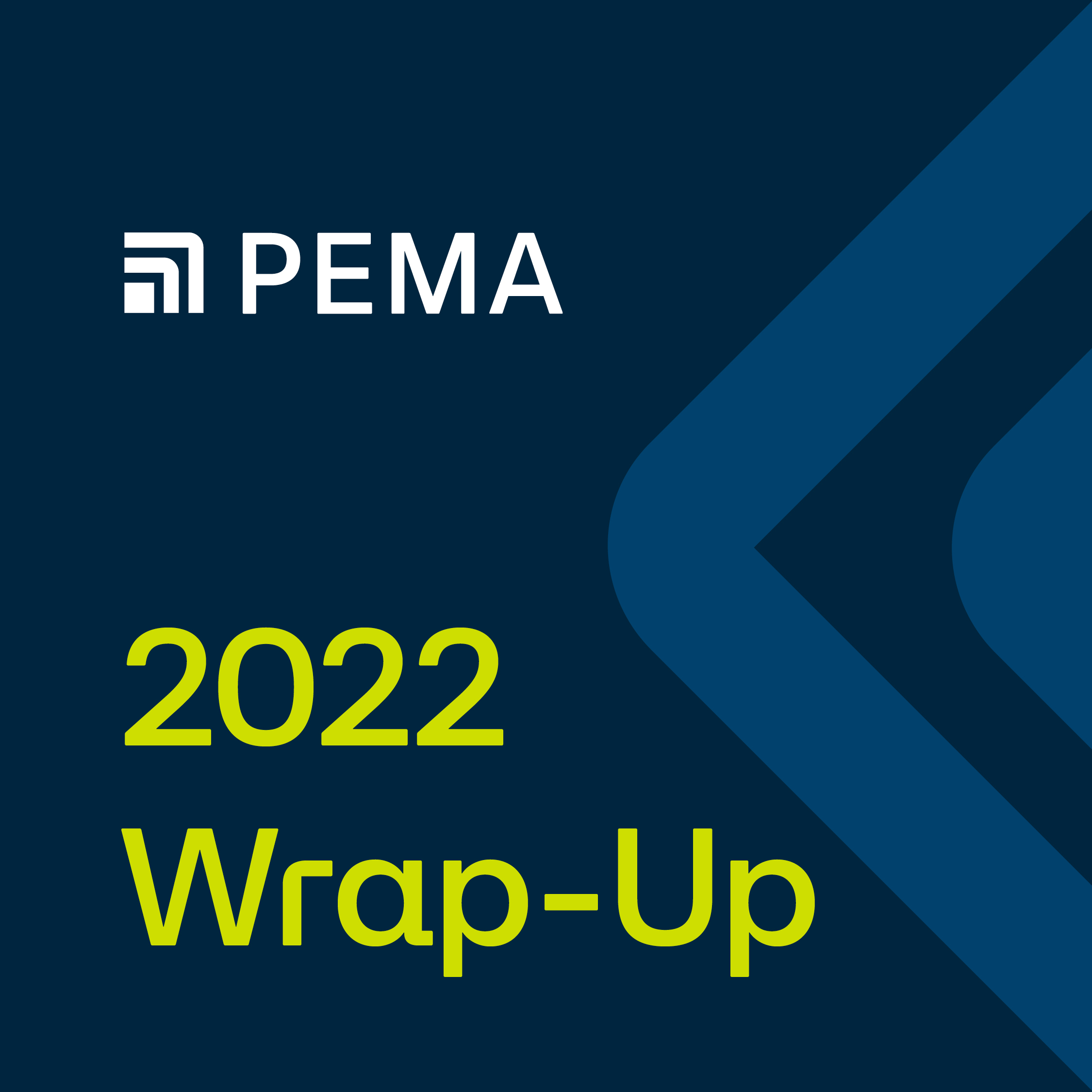 2022 Wrap Up
And that's a wrap!
What a year 2022 has been here at OCM. We've had a great run at making fun things happen with existing clients, while also welcoming some new accounts on board throughout the year.
The team have been reflecting on the variety of projects and campaigns we've been a part of and we wanted to share some highlights.
2022 Events
2022 AGM
The 2022 AGM was due to take place in person in Dubai however; the ever-changing situation of the COVID-19 pandemic meant Board Members felt it was best to host the AGM virtually in February in the interest of our members' and colleagues safety.
Board Strategy Day
PEMA Board Members  met in Brussels for a PEMA Board strategy day in May. It was a very beneficial meeting with our members' interests at the heart of the discussion.
We focused on the future of PEMA and how we can best serve our members. We also discussed the development of the new website and brand re-development which was later launched at the Dubai Autumn Meeting in October.
TOC Europe
PEMA  attended TOC Europe which took place in Rotterdam in June.  Head of Technology Pat O'Leary moderated in the Tech TOC theatre where Keynote Speaker Ammar Kanaan provided great insight into 'Considerations for Automation at Container Terminals'.
We were delighted to meet so many colleagues, members and new friends in person and were thrilled that so many of you were able to enjoy a refreshment with us at our drinks reception.
Dubai Autumn Meeting 
The PEMA Autumn Meeting was held in Dubai in October and was the association's biggest event to date and included a visit to the DP World Port at Jebel-Ali and a detailed presentation of the BOXBAY project.
Matthew Hoag (DP World), Jimmy Bhansari (Adani), Carolina Parro (TIL), Edward Tah (Saudi Global Ports), Jon Arnup (Trent Global Services), and Heike Bethge (JIPC) shared exclusive insights into the key challenges the industry  faces, and how they plan to mitigate these challenges. Dominique Popesco, the wife of Ottonel, former president and founding member of PEMA was guest of honour at the event.
PEMA President, Achim Dries, moderated the meeting and provided updates on the association's activities over the past few years.  Head of Technology, Pat O'Leary moderated the Technical Committee Meeting where participants had in-depth discussions as to the topics for white papers to be developed in the future. Pat also introduced the new Bulk Handling Committee.
The Ottonel Popesco Student Challenge by PEMA
The PEMA Student Challenge returned in 2022 having been renamed in honour of the late PEMA President Ottonel Popseco who sadly passed away last year. Now called The Ottonel Popesco Student Challenge by PEMA, 2022 marked the 8th year milestone of the challenge.
This year's challenge posed the open question of major significance at this time in the Port and Terminal industry:
"Ways to Reduce Energy Consumption in Ports and Terminals"
Univeridad del Norte, Columbia (represented by Dariela Castro, Lorena Gutierrez, Augusto Pineres, and Jose Bonifacio – Under the guidance of Adriana Milena Moros Daza and Rene Amaya Mier) emerged victorious with their presentation on "The Future Concept of Self-Sustainable Ports – PORTZERO" which focussed on alternative solutions to reduce energy consumption.
The winning students were presented their certificates and prize at the Universidad del Norte, Columbia on September 15th, 2022 with PEMA representative Timo Martin.
We would like to thank all 6 University teams that took part in this years' challenge and for their bright and powerful ideas as well as all the judges.
During the Dubai Autumn Meeting, Jean O'Connell and Laura Codd launched the new PEMA brand and presented a demonstration of the new PEMA website which is now live at pema.org
Members also have access to the new logo and brand guidelines for their own individual use – Linked Here.
What to Expect in 2023
Information Papers
Two new papers to be published in January 2023
More to come throughout the year as well as updating some older papers which have become out dated
Market Equipment Surveys
2023 will see the much-anticipated return of the Market Equipment Surveys
Events Calendar 2023
PEMA AGM, Hamburg, March 14th & 15th, 2023
TOC Europe, Rotterdam, June 13th – 15th, 2023
PEMA Autumn Meeting, New York/New Jersey, October 2nd – 4th, 2023
Ottonel Popesco Student Challenge 2023
The 9th Annual Ottonel Popesco Student Challenge by PEMA will be held in 2023 – more details on the challenge question will be posted in the new year.